Luke Dale-Roberts X Kenya, Part two: Cooking
After harvesting tilapia from Suzanna's fishpond, Luke headed to Tigoi fish farming training centre, where he worked together with the centre's manager Zinath to cook lunch for the local community using pond-farmed tilapia and catfish.
Zinath has been farming fish for the last six years, receiving support and guidance from Farm Africa every step of the way.
"If I can make a fire, then we can put the fish on a grill and put some wood on the fire, and put a lid on it. We can hot-smoke the fish."
With help from Zinath, Luke developed a new recipe for pan-fried smoked tilapia, served with a catfish reduction. The dish was inspired by one on the menu of Luke's restaurant The Test Kitchen, but with a Kenyan twist. Luke commented:
"We do a nice dish at the Test Kitchen with fish where we smoke the bone and we make the sauce with that and then we serve it with fennel and a nice rich sauce. And then we fry the fish: we poach it with butter. So I'm going to take a little bit of the fish dish we do in the Test Kitchen and try and do it here."
"I am going to make a super rustic sauce: just fried off onions and garlic. Then I'm going to add the spices: cinnamon, cumin seed, coriander seed: a little bit of the Middle East creeping in there. Then I'm going to add the tomatoes, cook it down, add some fish stock, a little bit of white wine, make a kind of emulsion out of that, cook it down."
"My favourite meal right now is always the newest one that I have created. I always like my newest dish the best."
It was the first time Luke had prepared the Kenyan staple ugali, but he noted the similarities to South African cuisine:
"On the side, I'm going to cook the maize meal: this is a staple across Africa. In South Africa they call it mini pup. In the Test Kitchen we do a dish where we do mini pup and flace, which is meat and cornmeal basically. I want to cook the ugali with milk and some spices and herbs."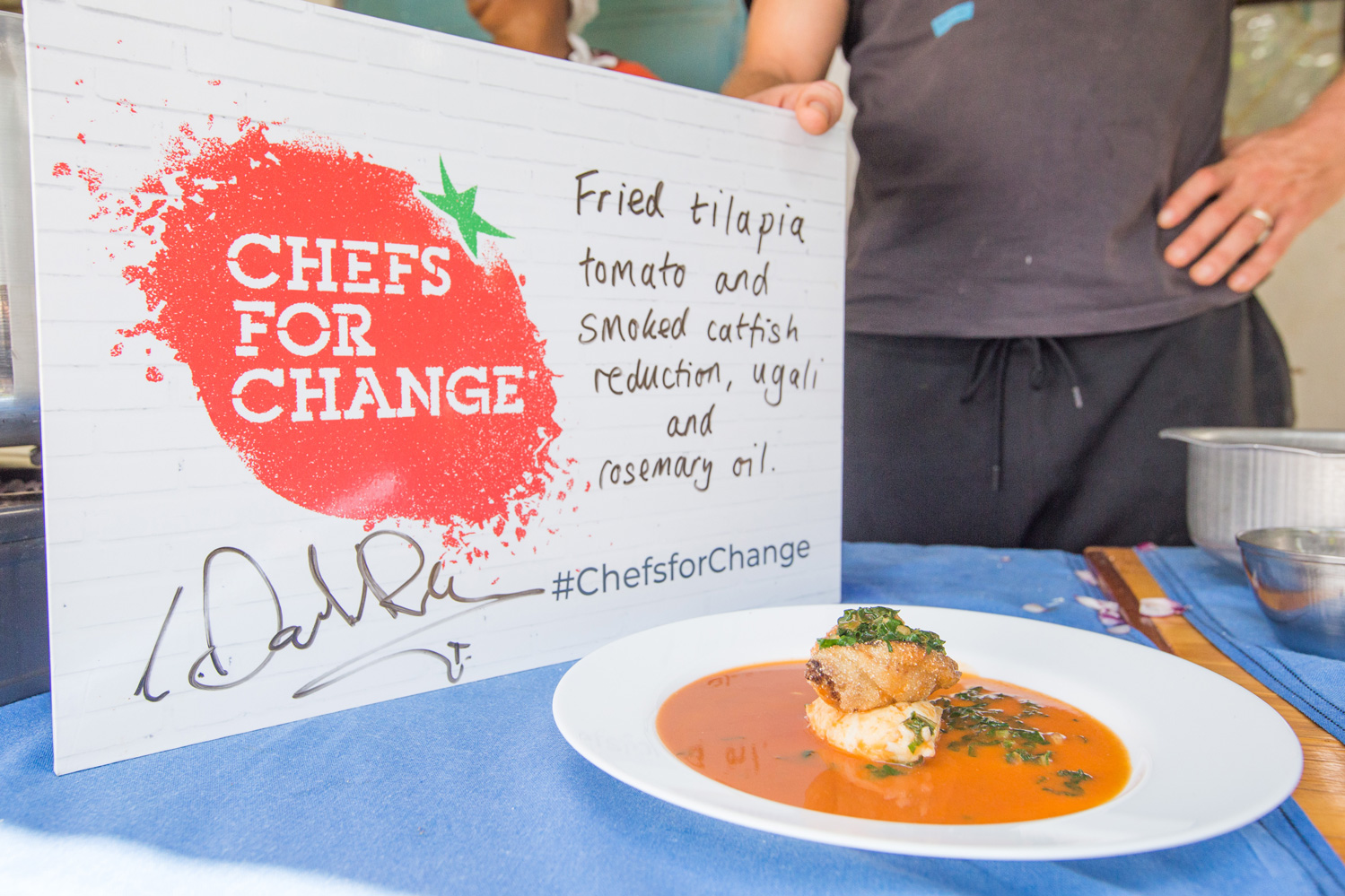 "Tilapia is very clean and very delicate. It has a beautiful flaky texture."
As they cooked together, Luke and Zinath swapped life stories. Luke heard how a switch from farming crops to farming fish had changed the 64-year-old grandmother's life.
Zinath has 11 fishponds, in which she breeds Nile tilapia and African catfish. She earns a steady income selling fingerlings [baby fish] to other fish farmers and from hiring her farm as a fish farming training centre.
The financial security made possible by fish farming has enabled Zinath to offer more support to others in her community: she voluntarily offers free childcare for local schoolchildren over school holidays. And she has created three new much-valued jobs in an area where job opportunities are few and far between. Zinath told Luke:
"Fish farming is creating quite a number of jobs. You can see people here on my farm: without the fish farm, they wouldn't have jobs. That's why I say fish for a healthy, wealthy living. It creates jobs, it creates wealth, it creates education."
"At the Test Kitchen we have two rooms: the Dark Room and the Light Room. The Dark Room is about my travels. Maybe when I get back I'll put something from Kenya in the Dark Room."
Luke's visit followed the full journey of fish from farm to fork. A journey that has the potential to increase incomes, employment and food security. The chef returned to South Africa buzzing with ideas for new recipes and with renewed commitment to championing the potential of sustainable agriculture to transform the lives of small-scale food producers.
"Cooking and being a chef and living in South Africa, I understand the importance of sustainability, as is the case across the globe. This trip to Kenya, to Kisumu and Nairobi, has given me a true insight into what it is to farm fish and to create a sustainable future."